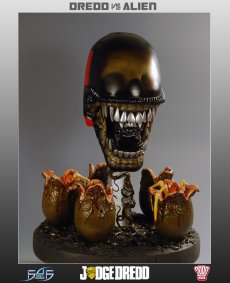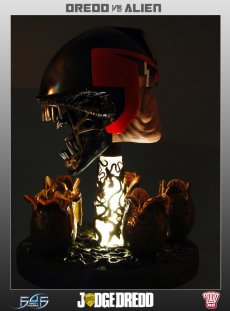 In a battle that threatened to bring Mega-City One to its knees, future lawman Judge Dredd faced off against Fox Film's Alien in 2003's stunning comic-book crossover Incubus, written by John Wagner and Andy Diggle and illustrated by Henry Flint.

First4Figures and Rebellion are proud to present a truly unique sculptural treatment inspired by the story. An interpretation of Flint's opening illustration, this limited-edition collectible is rife with special features - the otherworldly skull of the alien is visible through a blackened translucent surface, creating an eerily striking effect; a hidden lighting element in the base creates an otherworldly glow; and the alien eggs surrounding the base have been treated with unusual resins to create a viscous pool as face-huggers slowly emerge.

The fully hand-painted statue is minutely detailed, stands 11.5" tall and comes securely packaged in deluxe full-colour packaging. Includes Certificate of Authenticity. Strictly limited to 1,000 numbered statues for worldwide distribution.

The Dredd/Aliens statue will available to buy from the 2000ADonline shop (www.2000adshop.com) from June 2008 for £125.00.