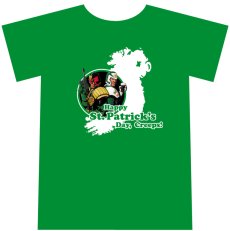 Each year, on 17th March, it seems every drokker and his robo-dog has some ancestral connection to the Emerald Isle. The Mighty Tharg would like to enrich your Celtic festivities this year by offering you this fine St Patrick's Day stout-cloth!

At only £13.00 this zarjaz new T-shirt features the scrotnig artwork of top art-droid Steve Dillon. These are strictly limited and only on sale from www.2000adshop.com and various Forbidden Planet International outlets, so be sure to pick one up today to avoid disappointment.

SPLUNDIG VUR THRIGG!