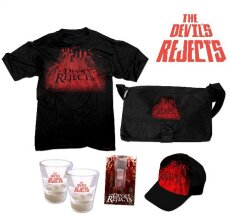 WIN THE DEVIL'S REJECTS DVDS!
Get into the spirit of the season by following a band of gruesome serial killers in Rob Zombie's brutal splatter pic The Devil¹s Rejects, released uncut on DVD by Momentum Pictures on 26 December 2005. The two-disc Special Edition includes previously unseen extra footage as well as commentaries, deleted scenes, bloopers and a two-and-a-half hour behind the scenes documentary!

Thanks to those kindly beings at Momentum, I have six DVDs to give away absolutely free alongside six Devil's Rejects goodie bags containing a T-shirt, cap, shot glass and shoulder bag! To stand a chance of winning this utterly ghafflebette prize, just answer this ghoultastically easy question:
---
This competition closed on 11th January, 2006.