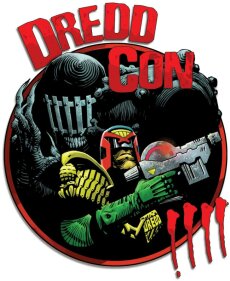 DREDDCON 4 SCHEDULE
SIGNINGS (Library, opposite the downstairs bar)
Signings and sketches from art and script droids will be available all day on an ad hoc basis - however, to ensure that dedicated Squaxx won't miss their favourites, you can expect to find the following at the times below:-
10:30 Simon Spurrier and Steve Roberts
11:00 John Wagner and Arthur Ranson
11:30 Gordon Rennie and Dom Reardon
12:00 Ian Gibson and Carlos Ezquerra
12:30 Boo Cook and Steve Yeowell
13:00 John Smith and Simon Davis
13:30 John Wagner and Carlos Ezquerra
14:00 Mike Collins and Carlos Ezquerra
14:30 Simon Coleby and Jock
15:00 Ian Edginton and Steve Yeowell
15:30 Rob Williams and Brett Ewins
16:00 Paul Cornell and Siku
16:30 Patrick Goddard and Dylan Teague
EVENTS (Upstairs talks room)
As ever, The Mighty One has organised a series of talks and presentations to excite his loyal Squaxx!

11:00 - 12:00 Things to Come
Editorial droids Cyber-Matt and AALN-1 present highlights to look forward to in 2004...

12:00 - 13:00 Portfolio Session
Editorial droids Cyber-Matt and AALN-1 are joined by artdroids Jock, Boo Cook and Steve Roberts in the search for the stars of the future!

13:00 - 14:00 Big Finish
The Big Finish crew are on hand to talk about the production of their thrill-powered 2000 AD audio dramas!

14:00 - 15:00 2000 AD Panel
Hyper-droids John Wagner, Ian Gibson, Arthur Ranson, Brett Ewins, John Smith and Steve Yeowell discuss a hot 2000 AD topic!

15:00 - 16:30 Tharg's Pitch Fest
The Mighty One invites all attendant Squaxx to suggest their Future Shock, Terror Tale and Past Imperfect story ideas! Please see compere Alan Donald to register your interest...

16:30 - 17:00 Charity Auction
A special auction of panels from 2000's Galleries of Justice Exhibition, with all proceeds going to the Galleries of Justice charity - helping reduce juvie crime!
FOOD AND DRINK
The downstairs bar is open from 11:00 - 23:30, serving a range of alcoholic beverages. Please note that the downstairs bar is the designated smoking area.Food and hot drinks are available from the upstairs dealer room until 17:00.