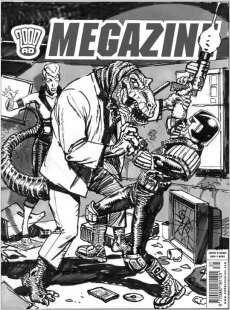 WIN HOMO TYRANNOSAUR
CHRIS WESTON is among the very best British comic artists, whose work for 2000 AD (Killing Time, Canon Fodder and more not to mention a top secret Meg project for later in the year!) and DC's Vertigo imprint (The Filth, among others) has won him a legion of fans and thanks to Chris' generosity, both of his rough drafts for this issue's cover are up for grabs!

Upon being commissioned to provide a cover depicting a scene from the latest instalment of Blood of Satanus II, Chris provided us with two extremely detailed A4 drafts (shown opposite). Picking our favourite was murder - the full-length shot won out in a secret ballot in the office! You can be one of two Meg readers each receiving a unique prize - one of those two originals, both signed by Chris - just by answering this simple question:
---
This competition closed on 10th February, 2004.