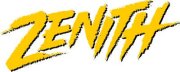 FIRST APPEARANCE IN 2000AD
Phase 1: Tygers 16 episodes (Progs 535 to 550) 81 pages
Script: Grant Morrison, Artist: Steve Yeowell
Reprinted
The Best of 2000AD 100
The Best of 2000AD 99
Titan: Zenith Book 1
MOST RECENT APPEARANCE IN 2000AD
Permission to Land 1 episode (Prog 2050) 2 pages
Script: Martin Howe, Artist: Steve Yeowell
Text story.
FIRST APPEARANCE IN THE MEGAZINE
Grant Morrison - Pop-Culture Prophet 1 episode (Meg 245) 7 pages
Script: Matthew Badham, Artist: Various
Featuring: Zenith
Text article
MOST RECENT APPEARANCE IN THE MEGAZINE
Interrogation - The Art of Storytelling 1 episode (Meg 257) 7 pages
Script: Steve Yeowell inteviewed by Matthew Badham, Artist: Steve Yeowell
Featuring: Zenith

STARRING
Zenith

STATUS
Superhero-cum-pop star

DATELINE
1987

LOCATION
London

WEAPONRY
None. Strong enough to punch clean through a super-Nazi's rib cage, Zenith didn't need weapons.

SOUNDBITE
"I'm nineteen, I can fly, I can flatten ballbearings between my fingers and I'm practically invulnerable to damage. What can possibly go wrong?"

TRADEMARK
Vanity, hedonism, and a general air of smug self-satisfaction.

MOTIVATION
The son of former 60s super-heroes Dr Beat and White Heat, both of whom disappeared under mysterious circumstances, Zenith had little interest in super-heroics. He was more interested in good old-fashioned hedonism, using his famous heritage to bolster his singing career.

PARTNERS
His long-suffering agent, Eddie; Siadwel Rhys, aka the Red Dragon; Ruby Fox, aka Voltage; Peter St. John, aka 60s super-hippie Mandala, aka the Minister of Defence.


LINKS
Seizing the Fire by Nathan Milner
A guide to Zenith