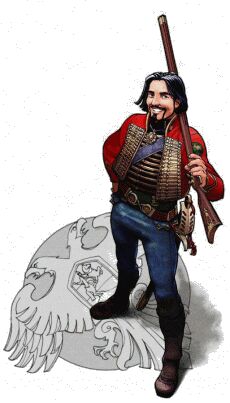 FIRST APPEARANCE IN 2000AD
Nikolai Dante 7 episodes (Progs 1035 to 1041) 42 pages
Script: Robbie Morrison, Artist: Simon Fraser, Colour: Alison Kirkpatrick (6-7)
Reprinted
Hamlyn: Nikolai Dante The Romanov Dynasty
DC/Rebellion: Nikolai Dante The Romanov Dynasty
MOST RECENT APPEARANCE IN 2000AD
Sympathy for the Devil 6 episodes (Progs 1786 to 1791) 38 pages
Script: Robbie Morrison, Artist: Simon Fraser, Colour: Gary Caldwell, Letters: Annie Parkhouse
FIRST APPEARANCE IN THE MEGAZINE
Interrogation - John Burns Veteran 1 episode (Meg 224) 6 pages
Script: John Burns inteviewed by David Bishop, Artist: John Burns
Featuring: Nikolai Dante, Judge Dredd
MOST RECENT APPEARANCE IN THE MEGAZINE
Interrogation - The Slings and Arrows 3 episodes (Megs 234 to 236) 16 pages
Script: Robbie Morrison inteviewed by David Bishop, Artist: Jason Brashill, Frank Quitely, Colin MacNeil, Simon Fraser, Henry Flint, John Burns
Featuring: Shimura, Nikolai Dante, Shakara, The Bendatti Vendetta
Text article. Second part titled "Tsars in his Eyes". Third part titled "The New Avengers"

STARRING
Nikolai Dante

STATUS
Rogue, brigand and adventurer

DATELINE
2668 AD

LOCATION
After the Last Revolution, many of the old Soviet states and nations lay in ruins. But from the ashes the Mafiya Clans rose, remaking themselves as aristocratic dynasties. Vladimir the Conqueror emerged as leader of the most powerful house, the Makarovs, and appointed himself Tsar of All the Russias. This brave new world mixes aliens and anachronisms, with bio-weapons and shapeshifters as common as Imperial concubines and noble duels. Nothing is ever as it seems.

WEAPONRY
Dante's Weapons Crest is a highly sophisticated battle computer which enables him to extend cyborganic 'swords' from his hands and enhances his natural healing abilities. The Crest is also duty bound to educate its host in the ways of aristocracy and mould him into a potential ruler of the universe.

The Huntsman 5000 is an alien firearm, coded to Dante's geneprint. Ammunition is created internally and replenished automatically. When targeted and fired, shells instantaneously adapt into the most effective means of terminating the enemy - whoever or whatever they may be

TRADEMARK
Cocky swagger and smug grin. He's too cool to kill!

MOTIVATION
Nikolai Dante is the bastard offspring of infamous female pirate Katarina Dante and Dmitri Romanov, vicious patriarch of the Romanov Dynasty. After a decade of fending for himself as a thief and adventurer, Dante bonds with a cyborganic Weapons Crest and joins the ranks of Romanovs. Dante's Romanov half-siblings admire his street-wise skills, but if Dante is going to survive in his new role, it will be how he always does - by looking after number one.

BACKSTORY
The cold war between the Tsar and the Romanovs seems destined to escalate into bloody conflict. As tensions rise across the Empire, Dante finds himself acting as a field agent along with his lethal Romanov half-siblings...


LINKS
Termight Replicas by Wakefield Carter
Full scale licensed replica Judge Dredd, Strontium Dog and Rogue Trooper weapons and equipment.
The Semi-Official Nikolai Dante Website by Simon Fraser
Artwork, Background info, etc.