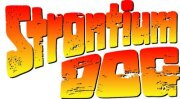 FIRST APPEARANCE IN 2000AD
The Galaxy Killers 9 episodes (Progs 86 to 94) 45 pages
Script: John Wagner, Artist: Carlos Ezquerra, Letters: Peter Knight (1), Carlos Ezquerra (2-9)
Featuring: Wulf Sternhammer, The Gronk
Reprinted
Judge Dredd Megazine 214
Rebellion: Strontium Dog Search/Destroy Agency Files 01
DC/Rebellion: Strontium Dog The Early Cases
MOST RECENT APPEARANCE IN 2000AD
Repo Men 11 episodes (Progs 1961 to 1971) 66 pages
Script: John Wagner, Artist: Carlos Ezquerra, Letters: Simon Bowland
Featuring:
FIRST APPEARANCE IN THE MEGAZINE
Judgement Day 6 episodes (Megs 2.04 to 2.09) 54 pages
Script: Garth Ennis, Artist: Dean Ormston (1-3, 5-6) and Chris Halls (4)
Featuring: Judge Joyce, Strontium Dog, Judge Inspector Sadu
Crossover. 14 episodes in 2000AD.
Reprinted
Rebellion: Judge Dredd The Complete Case Files 17
Hamlyn: Judge Dredd Hamlyn Judgement Day
DC/Rebellion: Judge Dredd Judgement Day
MOST RECENT APPEARANCE IN THE MEGAZINE
Interrogation - Son of the Man 3+ episodes (Megs 300 to 302) 22 pages
Script: Carlos Ezquerra interviewed by Michael Molcher, Artist: Carlos Ezquerra
Featuring: Strontium Dog, Judge Dredd
Text Article. Part 2 titled The Theatre of War. Part 3 titled All Rise for the Judge

STARRING
Johnny Alpha

STATUS
Search/Destroy Agent

DATELINE
2178 AD

WEAPONRY
Westinghouse variable-cartridge blaster; Electro-Nux; Time Bombs; short-range teleporter

SPECIAL ABILITIES
Johnny's mutant eyes can emit piercing Alpha rays. This enables him to see through solid walls, telekinetically manipulate objects'?¶ even penetrate a man's very soul!

SOUNDBITE
"I'll take you dead or alive. They're going to kill you anyway - may as well try your luck."

MOTIVATION
Warped by the mutating effects of radioactive Strontium 90 fallout, mutants are a victimised underclass on Earth. Denied normal work, many have taken the one job too dirty for norms: bounty-hunting. Across the expanding frontier of space, they hunt the criminals too dangerous for the Galactic Crime Commission. Johnny Alpha is one such "Strontium Dog" - a good man in a bad Galaxy


LINKS
Termight Replicas by Wakefield Carter
Full scale licensed replica Judge Dredd, Strontium Dog and Rogue Trooper weapons and equipment.
Strontium Dog UT by Matt Nicholson
Chronicling the creation of a series of Strontium Dog themed add-ons for Unreal Tournament which will eventually comprise a Total Conversion.